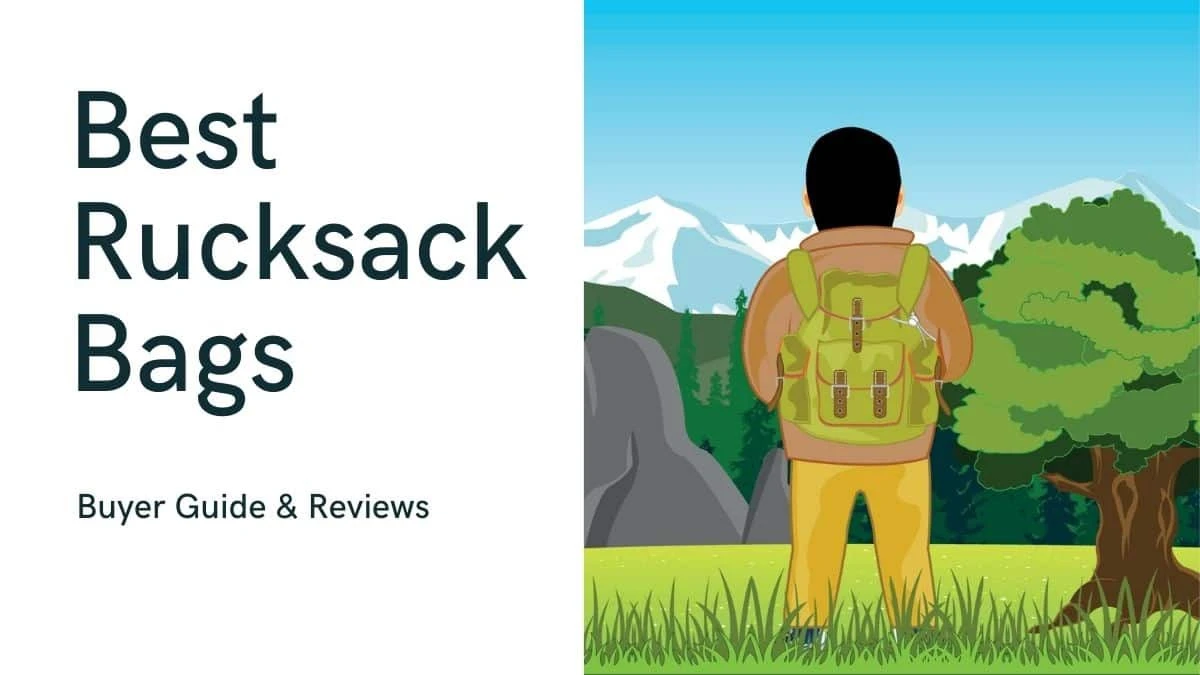 Best Rucksack Bags of 2021
Rucksack bags are very important for travelers and those on the lookout for adventure. Lightweight, handy and spacious, these bags make for great travel companions and can carry almost any things you will need on the road and your trip.
Whether you are looking to go on a trek, hike, camping, or a road trip with your friends — carrying a rucksack is the easiest and most convenient way to go about it.
These bags come with various compartments and can help you stay organized while carrying even a week's worth of supplies — including clothes, laptop, toiletries, and outdoor gear.
The design of these bags is done keeping in mind ease of travel and can be easily used for long durations with little pain. The shoulder straps are supported by hip bands that distribute the weight equally and make travel fun and easy, regardless of the luggage.
They are also versatile and well adapting to different weather conditions and will keep your belongings safe even in a wet climate.
So if you are planning to take a trip soon, you are looking for the right type of travel bag. In this article, we will discuss the factors to look out for as well as a list of 5 of the best rucksack bags available on Amazon India.
Rucksack Bag Buyers Guide for newbies:
Before purchasing a rucksack, there are several factors you must consider. Some of these could be the difference between a bag that is subpar and one that fits your individual need and situation.
Since we use most rucksack bags for traveling, investing in the one best made for you will save you a lot of pain later on.
Here are the factors to look into before buying the bag:
Quality is a very important factor since none of these bags come cheap and need to last long.
More than just the fabric of the bag, look for the ones that have good-quality zippers and well-made seams. These will ensure that your bag doesn't rip or need constant repairs, even if it is fully loaded.
The design of the bag provides overall comfort, especially the frame, straps, and back support. Options with supporting panel straps and hip straps can distribute the weight of the backpack equally and provide ease of usage.
Look for durability in the bag's fabric. Some excellent choices include Ultra Strong Nylon or Polyester fabric. Another great option is canvas, but it often adds extra weight to the bag.
Weather-resistance
The rucksack you pick will be a splendid companion for travel and a ton of outdoor activities, including hiking, trekking and needs to survive in any weather.
It should be waterproof, or at least come with a cover that you can use to protect your things in case of rain.
Strap Width
Having good straps can be the difference between a pleasing and a painful travel experience. This is because the wider the straps, the less pressure it exerts on your shoulders.
Even when your bag is heavy, you will not feel the pressure as much if you choose the right bag, so always make sure to check out strap width before making a purchase.
Compartments
The number of compartments depends mainly on your needs and usage. In general, the more the number of compartments, the better it is.
They designed certain rucksack bags to be adaptable and easy to carry around, irrespective of the number of compartments. If you also only going to have minimal things, however, single or double compartments are enough to support lighter loads.
Reflective surface
If traveling at night is an important part of your lifestyle, especially by walking or motorcycle — investing in a bag with some reflective surfaces is a great and safe option.
This will make it visible from a far distance in the dark, which is not an important feature if you only travel during the day.
External hooks and clips
For people who like to hike or climb mountainsides, external clips and hooks are very important.
But even if you are not into such activities, these hooks will come in handy to tie other things that could not fit into the bag to the top, or attach the bag onto a vehicle.
They often quote the capacity of rucksacks in liters.
Depending on your need, you will choose between the range of 10 l and 90 l. It is important to note the difference between the units, for instance, a rucksack that has the capacity of 50 L can carry up to 15 Kgs. We're giving you a quick reference guide below:
10–30 liters: useful for one-day trips/hikes.

30–50 liters: useful for weekend treks and overnight trips.

50–70 liters: useful for over 3-day journeys or camping trips.

Over 70 liters: useful for outdoor activity gear and weeklong trips.
Depending on your height and whether the bag comes with adjustable straps — always measure the bag (if buying online) or wear it and see before making a purchase. Usually, there are stipulated height ranges for each bag that you also refer to before buying.
Carrying a bag that itself weighs a lot can be painful. So, when looking for a travel bag, especially a rucksack — take this into account.
Ensure to compare the options for the same capacity and check which products have the lowest weight. This may depend on the fabric, the number of compartments, and other external features of the bag.
Although the higher the price usually translates to higher quality, make sure to find the best deal. Some bags come with prominent features, but at lower prices than others.
Buying the bags online is also a smart option to avail of the deals or offers from sites like Amazon and Flipkart.
Protection
Since these bags are useful for travel, they usually have some valuables in them. So look for lockable zippers and fabrics that cannot easily be slashed open.
Top rucksack bags available in India 2021
Wildcraft 45 Ltrs Grey & Orange Rucksack
Made from nylon fabric, which is abrasion-resistant material with high tensile strength, this bag is one of the best options if you are looking for a versatile rucksack.
It lightweight, durable, and is equipped with secure zippers that are designed to keep your belongings safe. The straps are also well made and have adjusters for both height and depth to make the bag the best fit for you.
It is also a very spacious option, with a travel-friendly capacity of 45 liters that allows you to pack either light or heavy depending on the duration of your trip.
The hip straps allow the weight to be comfortably and equally distributed. The bag is a top-loading type and has a draw-string opening for easy and quick access. It also has a strengthened haul loop to take on heavier loads.
Built with hard conditions and terrains in mind, the rucksack is designed with an ergonomic build that helps increase comfort while reducing the weight of the bag.
They are multi functional and allow you to completely enjoy your outdoor activities with ease. They fit it with several pockets to help you organize, pack, and easily access your everyday essentials.
Lightweight and durable design

Weather-resistant fabric

Adjustable Straps for both height and depth

Comes with a 5 years warranty

No specific rain cover

Does not have any side pockets for small items
AmazonBasics Internal Frame Hiking Backpack with Raincover
This rucksack bag has a hardback that increases its lifetime as well as the security it provides to your belongings. Made of durable polyester material, it is durable as well as lightweight.
Its internal frame is especially sturdy for hiking and camping. It also has several external storage pockets and compartments to organize and store things for easy access.
If you are a frequent camper, it also has a large sleeping bag compartment built into the bag. The straps can be adjusted along different dimensions to keep you comfortable and give the bag a snug fit on your body.
There is also an open-cell foam lumbar pad, and it is molded in such a way that it provides lower back support and allows very good airflow to prevent sweating.
There are thick padded shoulder straps for extra support. The bag is also very weather resistant and has an integrated water-resistant rainfly; the exterior is also water-repellent and can be used for traveling in light rain with no issues.
With heavier rain, there is an extra waterproof cover. There is an extension collar for added storage space if you want to carry a heavier load.
Waterproof design for both light and heavy rainfall

Adjustable Straps and lumbar support to provide comfort

1-year warranty

50 liter capacity + 5 liter extension

Several compartments for organized storage

Slightly expensive

Heavier because of the internal padding
Tripole Colonel 80 liters Rucksack
This rucksack bag has a 12-liter detachable storage unit, which can be used as per the need and convenience of the user. This unit can easily be taken apart from the bag itself and is ideal for overnight or even weekly trips, or hiking and camping adventures.
It has padded shoulder straps as well as front carabiner hooks for tying ropes.
The material is water repellent, heavy-duty polyester fabric with a breathable mesh that allows good airflow over long hours of travel even in the sun. It can carry a large load and is equipped with an aluminum rod for support.
The bag also has a rain cover attached to the bottom in a Velcro pocket that covers it entirely, making it waterproof even in heavy rains. The zippers and seams are well done and durable for long-term usage.
Compartments are well designed and the bottom opening allows easy access and storage meant for essential items, like sleeping bags or shoes.
Also, the partitions between the top and bottom compartments can also be removed to make one large container if you need to carry heavy loads.
Large bag at a reasonable price

Well thought out compartments

3-year warranty period

Detachable extra storage space

No specific lumbar support

A bit heavy, but expected given its capacity
Fastrack 57.2 cms Grey Rucksack
Lightweight and durable, this rucksack bag is made up of polyester material and is a great option for travel. It has a 50-liter capacity and is ideal for 4–5 days of trekking.
The front and top bag opening have padded shoulder straps, chest and waist straps along with a zipper pocket for well-organized weight distribution. The back frame is made of metal and can support the larger weights with ease. The hood has space to store sleeping bags and is closed with drawstrings.
There is also a laptop compartment that is also water-resistant. It has enough space to pack comfortably for a week-long trip and more, and the make and build of the bag are overall extremely durable.
Has an in-built laptop compartment

Water-resistant material

It has adjustable straps and is supported by both chest and waistbands

1-year warranty

Large storage space

The laptop compartment cannot fit large laptops

No locks on the zippers
F Gear Military Neutron 50 Liters Rucksack
Made of polyester material, this bag has several pockets that make it quite spacious and organized. It is weather-resistant, durable, and lightweight.
The shoulder and waist straps are adjustable and each pocket has a zip to keep your belongings safe even during sudden jerks on the road. The bag also has two bottle pouches on each end.
The opening has both a drawstring and zip closure.
Its capacity of 50 liters makes it suitable for most travel adventures. The pockets make it a great pick to put essential belongings in and out safely especially during travel.
Multiple external pockets with zips to hold your belongings safely

Adjustable waist and shoulder strap

Two bottle pouches

Water-resistant material

Not visually exact to the picture

Slightly thin material
Some commonly asked questions
What's the difference between a rucksack and a backpack?
While all rucksacks can be considered being backpacks, the vice versa is not always true.
This is because, rucksacks, unlike some of the flimsier backpack options, are military-grade backpacks that are a lot more durable.
Another notable difference between the two is that rucksacks will normally have a drawstring opening at the top, along with a flap with buckles.
Which brand of rucksack is best?
Depending on your specific need, the brand that caters to it may be different.
There are however some standard options like Wildcraft, FastTrack, and others that are known for their bags and quality.
Why is a rucksack called a rucksack?
Known commonly as a loaded march, or a forced food march — rucking is a common military exercise.
It involves carrying a load on your back over a distance by marching pretty fast.
Used to ruck, the bags are rucksacks. Another place of origin of the word is the literal derivation from the German words der rücken and sack, which each translate to back and bag.
What size rucksack can you take on a plane?
Carrying baggage for air travel is a tricky balance between the size of the bag and its weight.
Depending on the specific airline, the limit for both may vary a little. For general reference, a 37–40 liter bag will satisfy the criteria set by most airlines for carry-on luggage.
Another option is to just check in your rucksack and collect it at the destination.